Posted by The Marie Me Matchmakers! ❤️ on 10th Aug 2022
You have chose your dream wedding dress. Now, it's time to decide on bridesmaid dresses for your besties! Where better to start your search than with Sorella Vita dresses? With so many bridesmaid colours and trends to choose from, the options are truly endless, but we have good news—selecting a great color for your bridesmaids is easier than you might think. There are so many gorgeous color trends, no matter what season or wedding day style you have.
With the mixing and matching of colors, fabrics and silhouettes becoming increasingly fashionable, you can find a gown that each of your bridesmaids will feel fabulous in. The key is to think about your venue, the overall color palette of your wedding and your own wedding dress, of course!
Shades of white tend to go with any color, however, if your gown has a touch of color, you can still find bridesmaid gowns that will complement your look. For the top trending bridesmaid dress colors and some major bridesmaid fashion inspo from Sorella Vita, keep reading!
Blue Bridesmaid Dresses
Make your "something blue" your bridal party! Shades of blue are in for 2023, with cool colour palettes at the forefront of bridesmaid dress trends. Lighter shades like Windsor Blue or Bluestone, or a dusty blue like Slate, are gorgeous choices for all seasons. They look crisp and fresh and bring a subtle dreamy feel.
When it comes to fabrics, opt for chiffon in soft shades of blue. The flowy nature of chiffon lends itself to a romantic and ethereal look! As for florals, bouquets with shades of cream, and even a touch of blush and lighter greenery, like Eucalyptus, create a beautiful colour palette.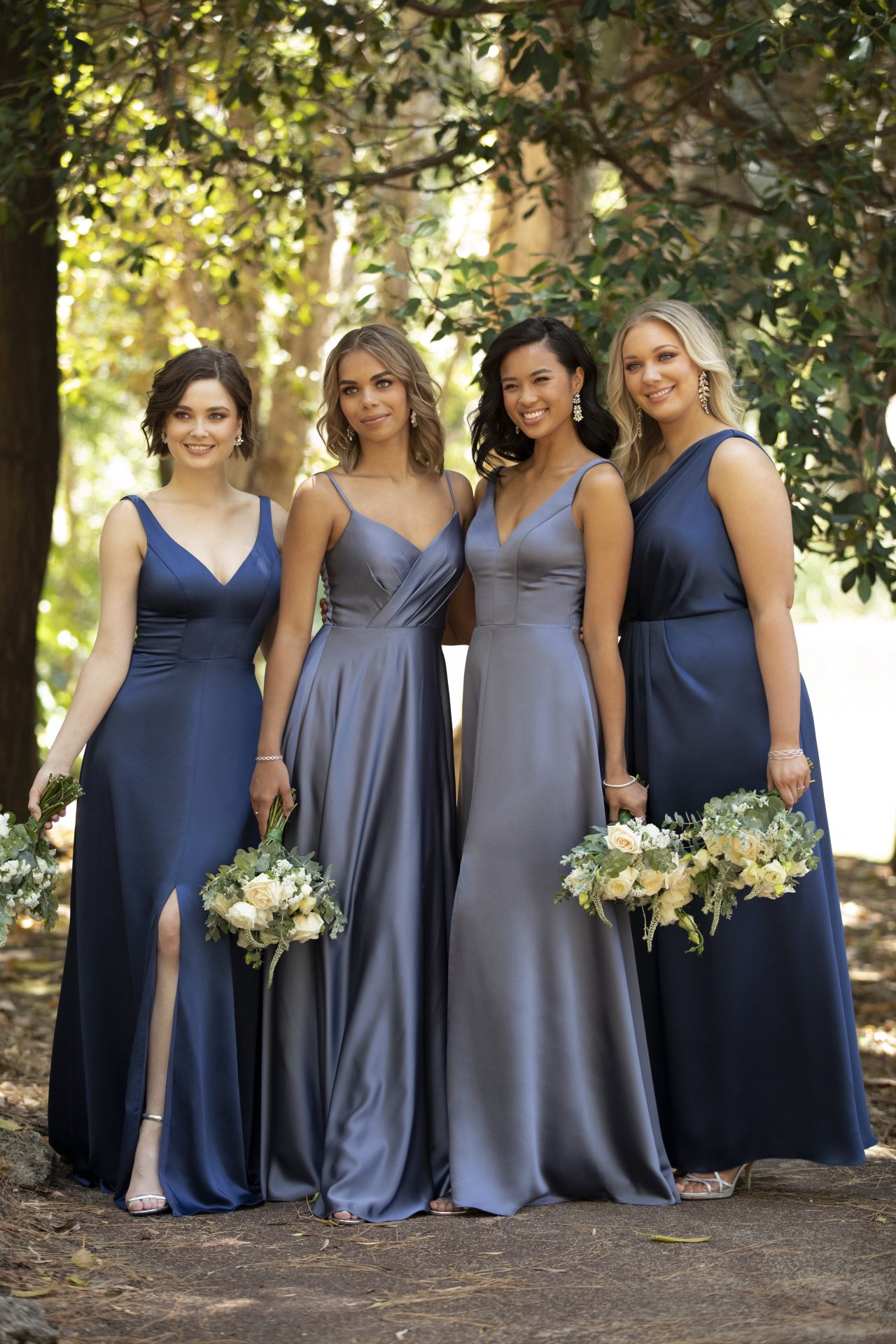 Green Bridesmaid Dresses
Both Sage and olive tones like Moss are super popular this year! Sage is an excellent colour for weddings all year round and works particularly well in the spring and summer. This beautifully soft shade feels slightly more casual than an emerald green and will give your besties a very natural yet elegant look.
Moss is a rich shade of green that is a little more formal and moodier, making it ideal for fall or winter weddings. It pairs exceptionally well with gold accessories for a luxurious bridal party look. Pairing both colours with soft white blooms will make these shades pop!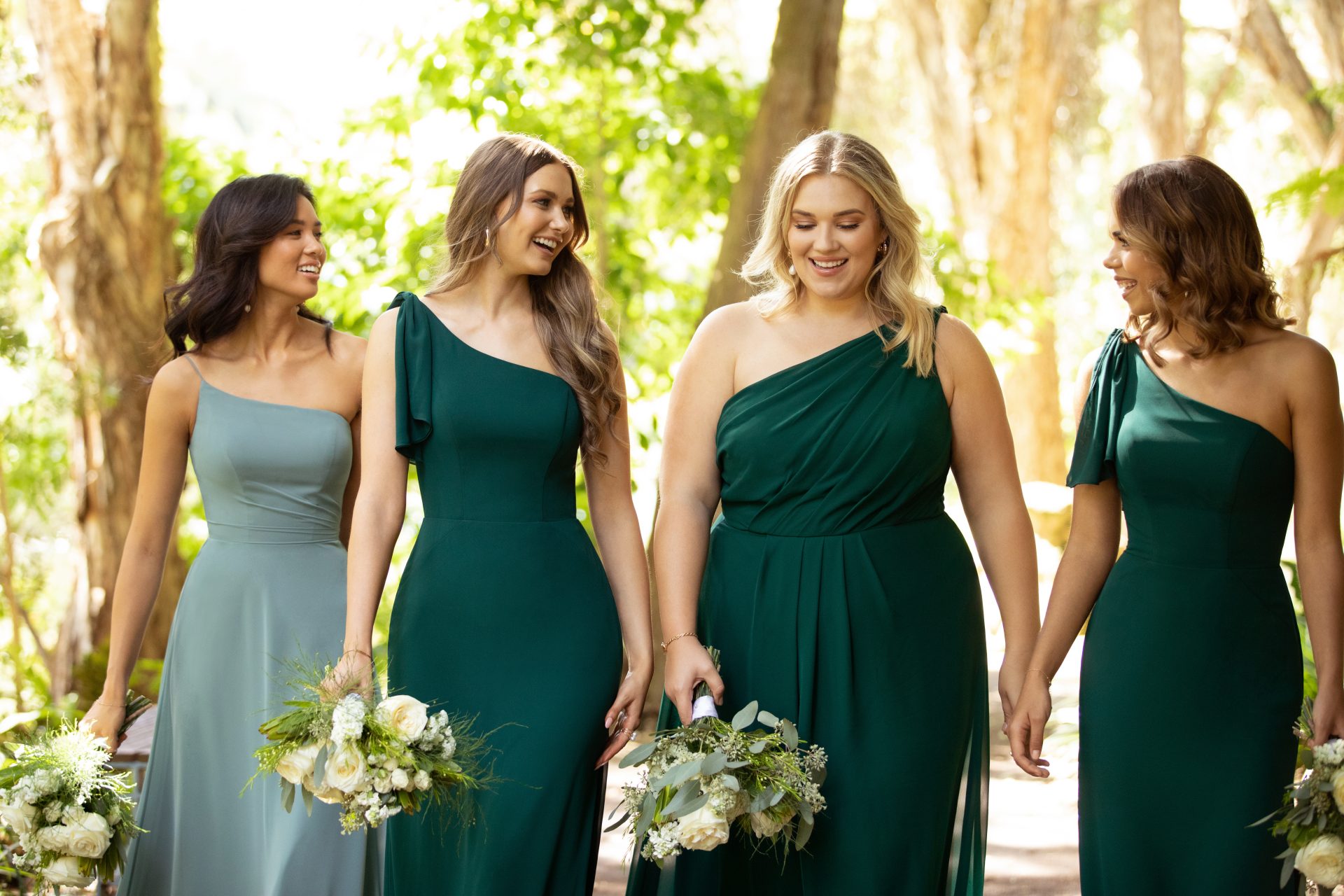 Bridesmaid Dresses in Rosy Hues
While blush is a favorite for many brides, due to its timeless feel, this year is all about adding rosy hues into the mix! This soft and romantic colour range also pairs well with other dusty colours, like sage greens or dusty blues, when mixed with ivory. You can also opt for varying shades of pink for a monochromatic look, which is trending for 2022. Rustic Rose, Desert Rose and Vintage Rose are just three bridesmaid colour options that fit within this gorgeous colour palette.
Rosy bridal party dresses look especially beautiful when the bride is in a gown with a touch of blush, but they also complement an ivory or white bridal gown. For an ultra-fashionable look, choose trendy tea-length gowns in charmeuse or velvet fabrics, as seen below. Wedding bouquets with shades of white, cream, blush, pink and a pop of greenery further add to this classic and romantic colour palette.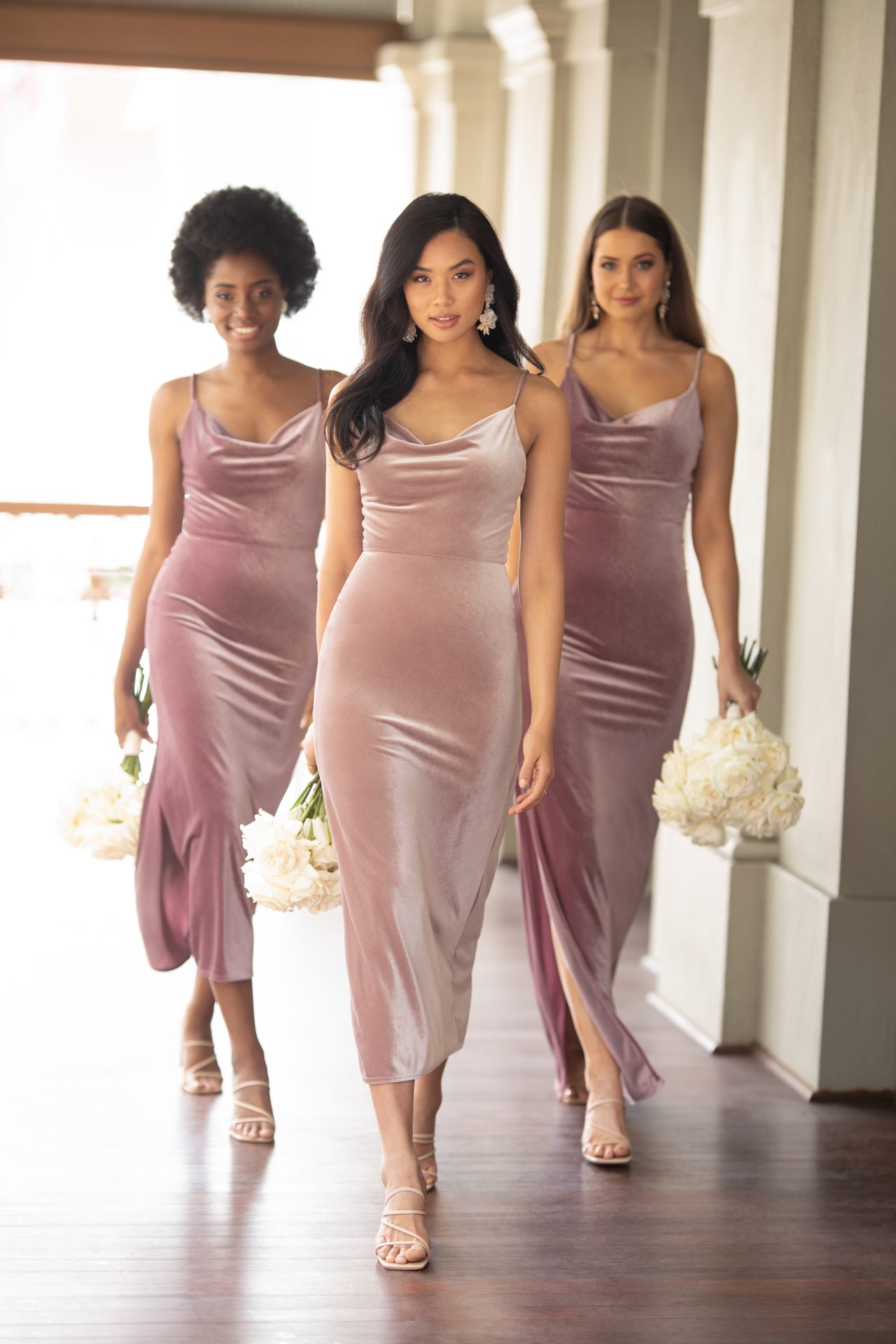 Bridesmaid Dresses in Rusts and Burnt Oranges
The warm and toasty shades of rust and burnt orange are all the rage and work well for weddings in the summer and into late fall. Typically, we have seen this colour palette at boho or desert weddings, but lately it is starting to make an appearance in more traditional and modern affairs.
Burnt orange gowns are trending for summer and outdoor weddings. In contrast, satin or velvet gowns chiffon in Russet are beautiful for cooler temperatures and look amazing with a background of fall foliage. If you want to choose multiple colours for your bridesmaids gowns, shades of orange also pair well with other sunset and earth tones—think Harvest Gold, Amber, Sage, Moss and Toffee!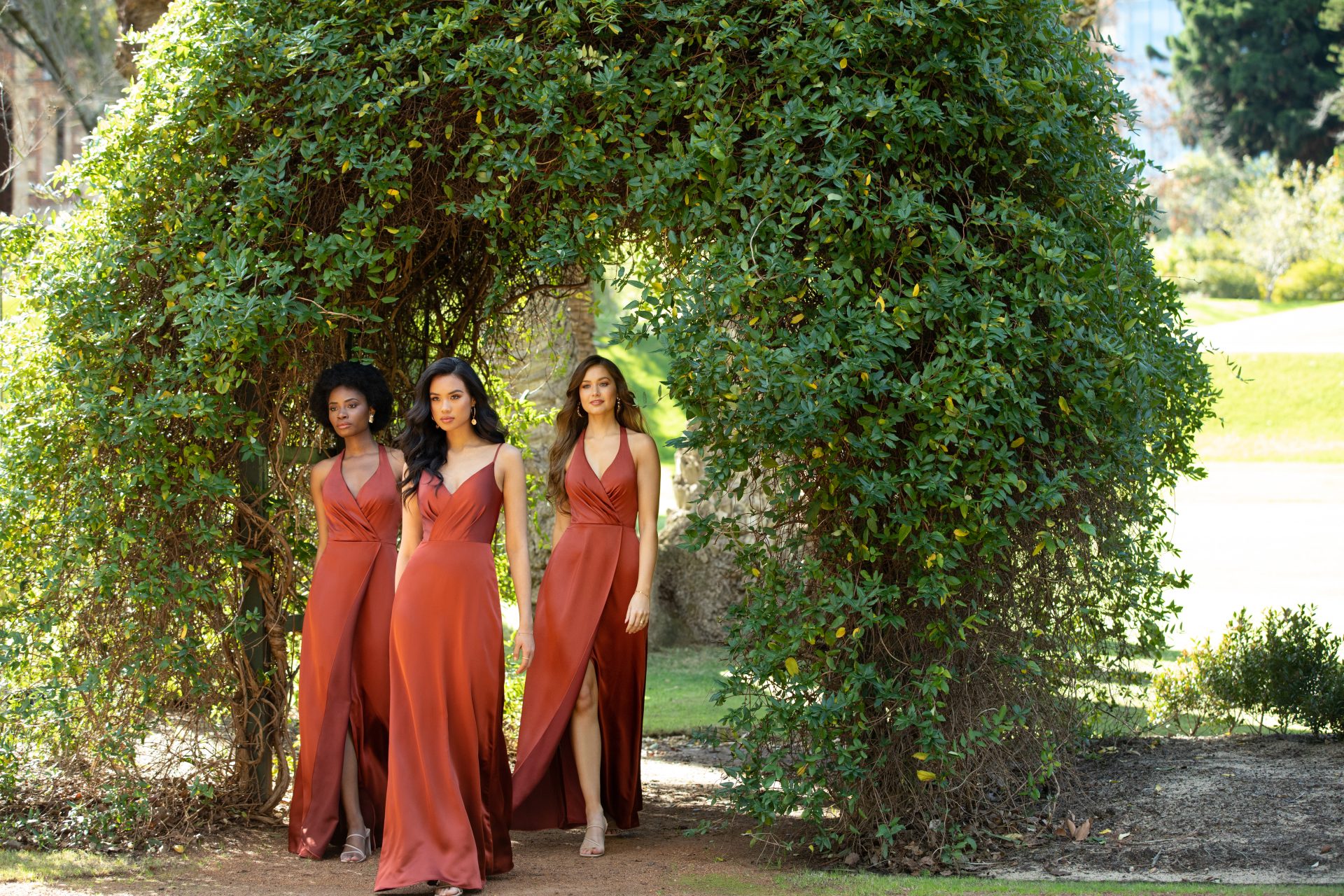 Bridesmaid Dresses in Jewel Tones
Jewel tones are a classic choice for bridesmaids! You can select a singular colour or mix and match for a gorgeous colour palette. These colours typically look flattering on everyone and can work for all types of weddings due to their rich, saturated nature.
For an ultra-luxurious look, opt for styles in satin or charmeuse, which are delightful for a black-tie wedding. Amethyst, Deep Emerald, Deep Ruby, Smokey Quartz, Victorian Blue and Tuscan Gold are incredible options. If you want to single out one major trend within jewel tones, deep shades of red are in and look gorgeous on everyone!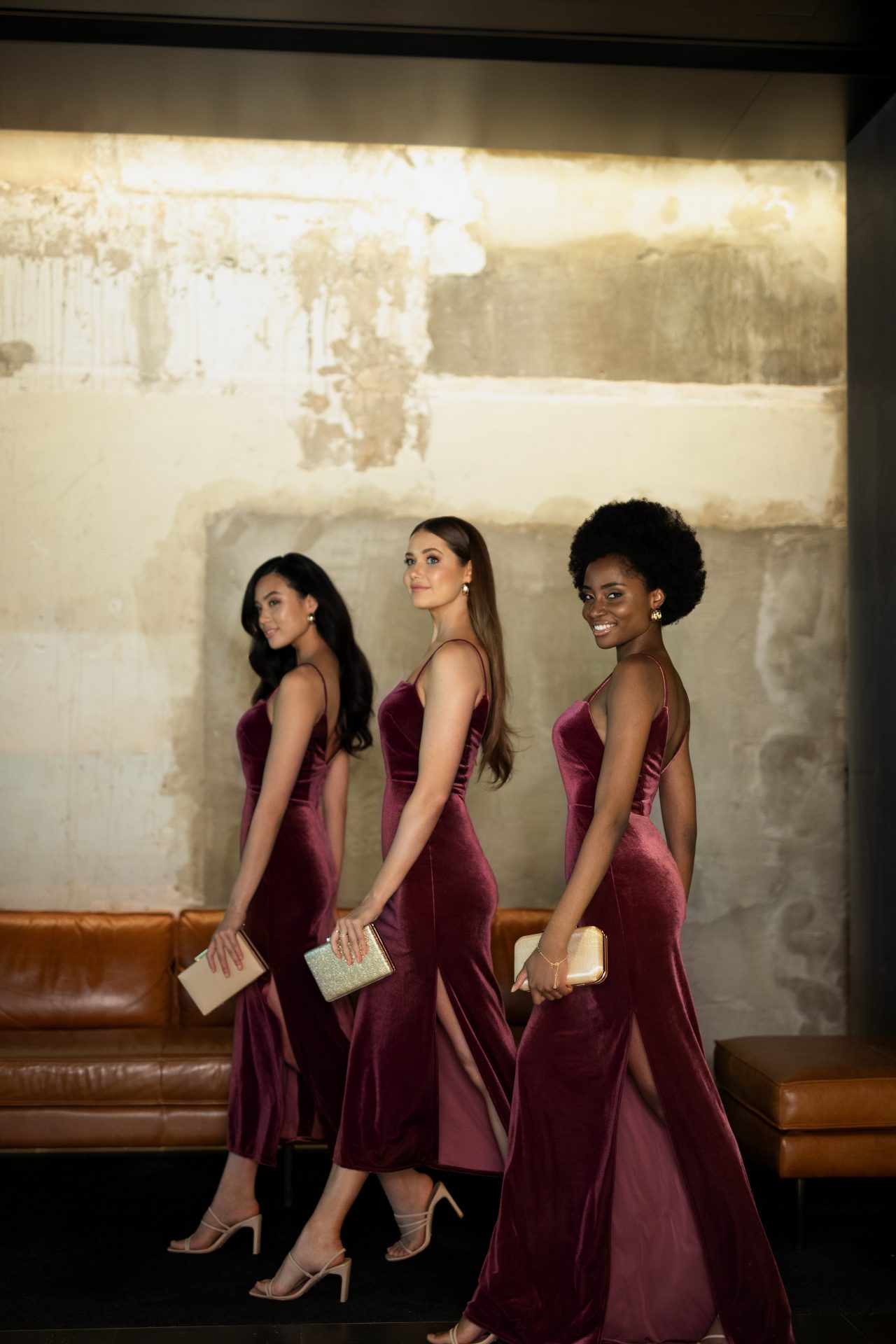 Timeless Black Bridesmaid Dresses
You can never go wrong with timeless black! No wonder this is one of the most beloved bridesmaid colour options. Black looks beautiful on every skin tone and body shape and is ideal for a formal setting. Think of a ballroom or chic city loft wedding reception! Charmeuse gowns and slip silhouettes are super trendy right now and look incredibly chic in black, and brides can also allow their bridal parties to choose different fabrics and styles.
Putting your bridesmaids in the same dress style is a classic choice but letting them express their own styles is the latest trend! And the best news? Any type or shade of wedding gown brides select will look stunning alongside their bridal parties in black!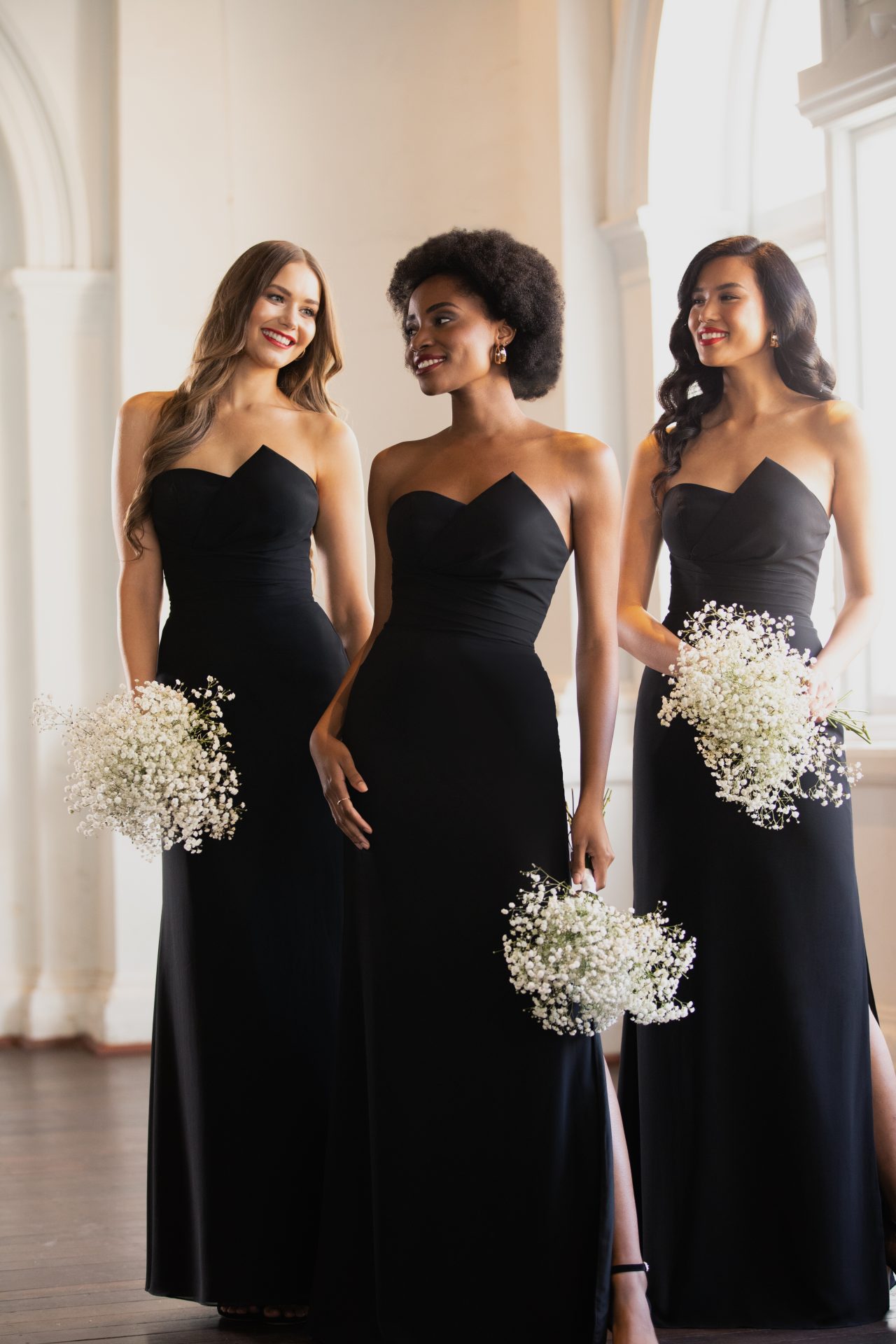 Now that you know which colours are trending, are you ready to start shopping for bridesmaid dresses? From trendy designs to classic silhouettes, our Sorella Vita has a beautiful dress for every 'maid in your bridal party.
Have a look through the selection of bridesmaid dresses we have on our website and find the latest colors, trendiest fabrics and the most fashion-forward designs.