Posted by Eilish & Fiona AKA 'The Marie Me Matchmakers'! ❤️ on 15th Nov 2023
In the spirit of pumpkin spice and everything nice, it brings us immense joy to share our beautiful cousin Claire and her new husband Danny's wedding. They embarked on a whimsical journey down the aisle in October, a month that held the magic of their love story. From Spooky beginnings to Forever- It all started at a Halloween fancy dress party, where destiny wove its magic and brought together these two souls!
From one fancy dress to another! We're bursting with pride as Claire made history, being the first bride in Northern Ireland to wear the exquisite #Iona gown by All Who Wander, a gem exclusive to our store. The #Iona gown embodies simplicity, elegance, and comfort. In lieu of the traditional veil, Claire added a breathtaking twist with a cape embellished with pearls. The cape added an extra touch of opulence, elevating the wow factor to sheer perfection. She looked nothing short of amazing! The first dance was a sight to behold! With the dance floor sparkling and Claire's Pearl cape shimmering.
For all the details and to draw inspiration from this countryside celebration that's like a cozy hug from autumn itself, read on to hear what Claire has to say with all the juicy details from this fun-filled shindig.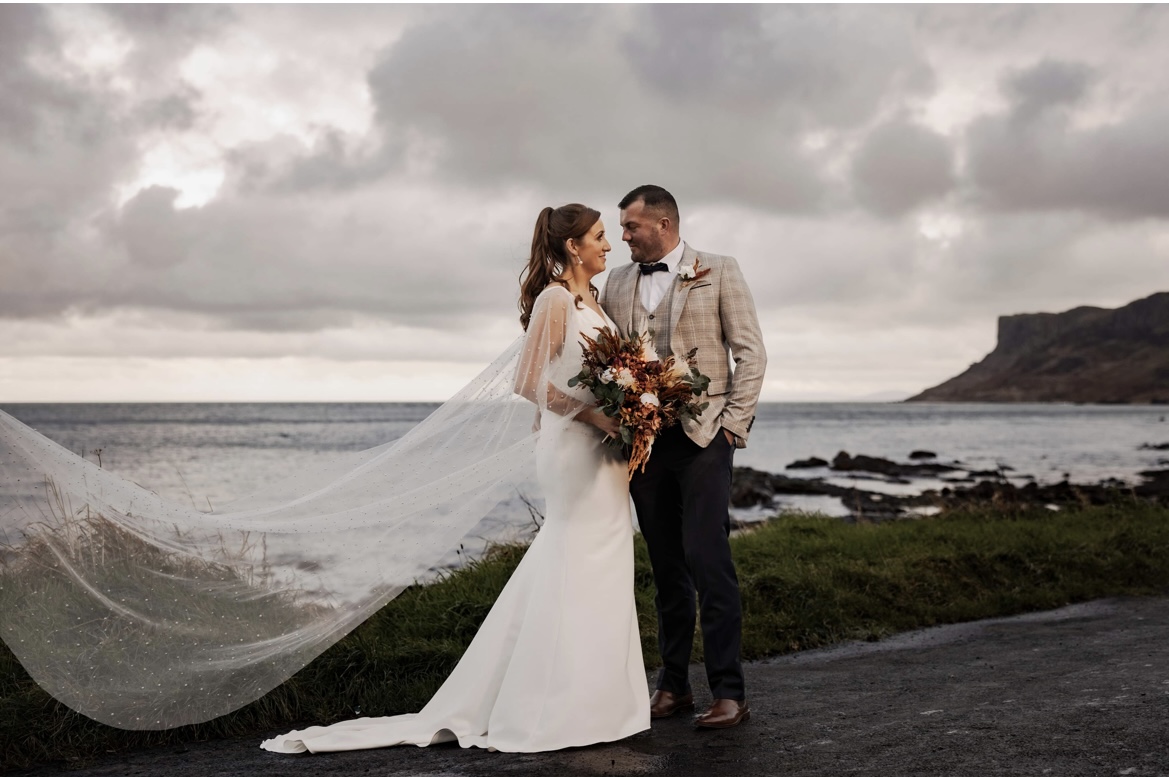 Tell us a little about yourselves:
Danny and I met at a Halloween fancy dress party about 8 years ago so we loved the idea of getting married in October as it's such a lovely time of year.
I work as a registered childminder and Danny works as a builder. We live on a farm and love the outdoors and countryside.
How much did you LOVE your wedding dress?
I loved my wedding dress so much. It was simple and elegant and very comfortable to wear. Instead of a traditional veil I had a beautiful cape covered in pearls which added the wow factor to my dress.
Eilish and Fiona were so helpful when I was picking my dress, they made me feel so comfortable and every visit was so much fun.
The wedding vibes were all about those vibrant autumn colours! The bridesmaids rocked our Sorella Vita burnt orange velvet dresses, looking HOT and blending seamlessly with the fiery autumn hues. These rich, velvety gowns hugged their figures, radiating the warmth and beauty of the season.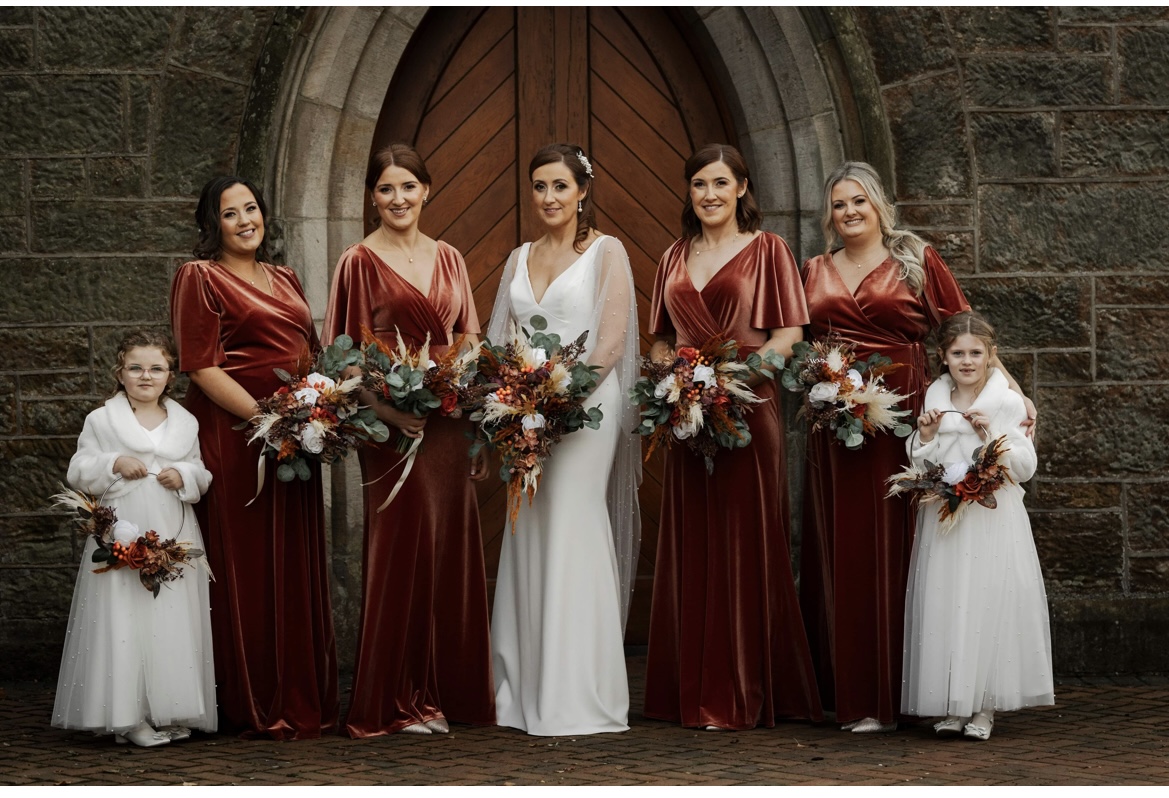 Tell us about your wedding ( Your theme/ the inspiration behind the styling)
The inspiration behind the theme and style for the wedding was rustic decor and autumnal colours to match the season.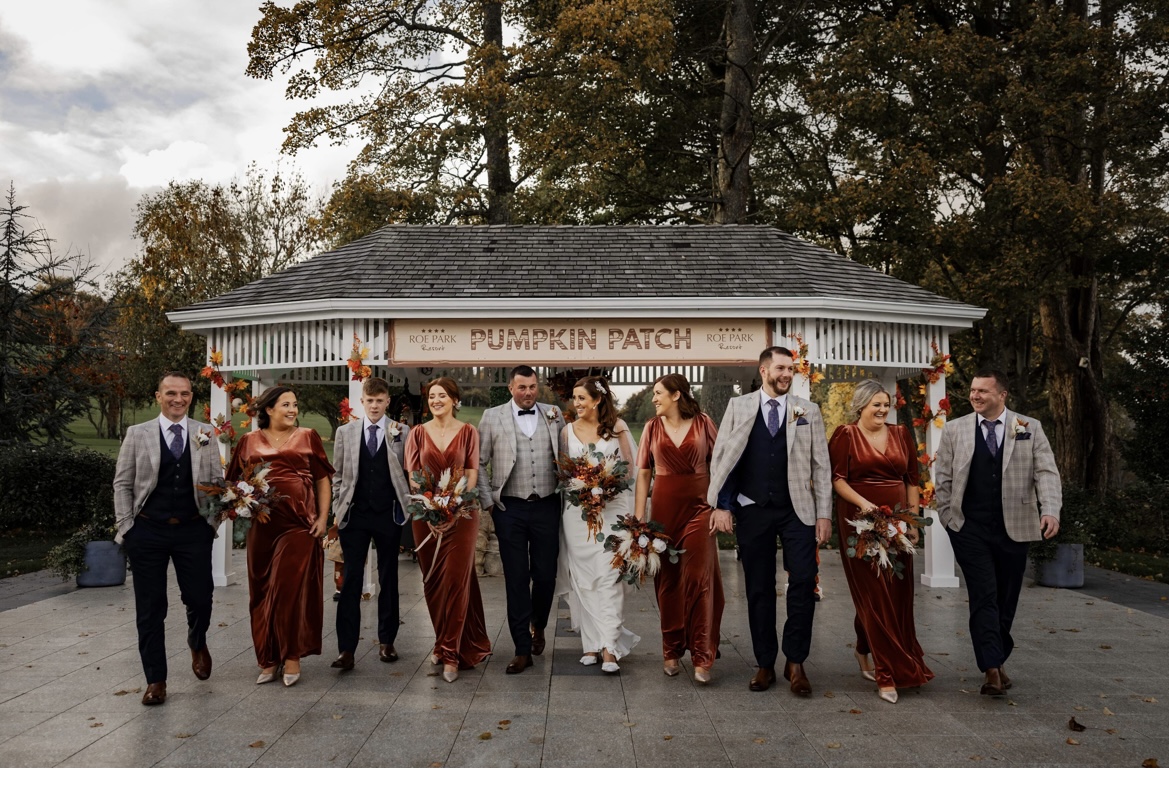 Memorable moment? What was the highlight of your day?
One of my most memorable moments was walking down the stairs when I was ready to leave my house and seeing my mammy and daddy at the bottom of the stairs waiting on me. I felt like a princess and couldn't believe it was finally the big day!
Another highlight was the first dance, with my Pearl cape sparkling as we danced around the sparkly dance floor.
Reflecting on her own wedding experience, Claire offers a pearl of wisdom to couples embarking on their wedding planning journey:
Try not to stress and trust the process as it will all come together and be the best day ever.
Congratulations Mr & Mrs McKee. Thank you for letting us play a small part in your beautiful wedding day. May we wish you a lifetime of happiness together. xx