Posted by Eilish & Fiona AKA 'The Marie Me Matchmakers'! ❤️ on 11th Jan 2023
There's only one way to start off 2023 and it's with epic wedding inspiration. And since we are still in the party spirit (did we mention it's our 15th birthday?) we have a BIG wedding party to share! To kick off the new year in aisle-style we have Mr & Mrs Foy, their 7 bridesmaids and 7 groomsmen, now that's what we call a bridal party!
From their un-fore-gettable first date mini-golfing to a surprise proposal on a beach in Donegal, a week of celebrating on the lead up to the wedding and a wedding that Maria describes as 'the best and most beautiful day of our lives!
What's not to love, pretty gowns and suits, a whole heap of love and joy, so scroll on for more details on this beautiful pair! Every joyous detail captured expertly by the highly talented Navy Blur who have outdone themselves with these pics.
Tell us a little about yourselves
We met when we were both studying in UCD. We initially kept each-other late for lectures by chatting too much over coffee and losing track of time. After two weeks Brían asked me to go minigolfing for our first date.. which I won of course! We both felt very lucky from our first date.. I think we both knew we had something special!
Brían surprised me while we were walking in Rosnowlagh Beach in Donegal by proposing with a beautiful ring he had picked himself! It is actually my dream ring!
Going out and grabbing a simple cup of coffee is still one of our favourite things to do together!
Tell us about your wedding
Our families and bridal party got together and had so much fun before the day even began. We had a wedding week filled with activities planned by Brían before our actual wedding day - he is definitely the much more gifted with organisation skills. We had a marquee in my garden that often saw great craic into the wee hours of the morning - although we did make sure to get to bed early the night before the big day!!
We had our College Chaplin from UCD come up from Dublin to marry us on the day! This was so special as he knew us both so well, even before we knew each other! Our ceremony was so important to us and it was so beautiful. Our friends did the music too which was very special.
Although it rained all day but we didn't even notice! Our goal was that all our guests would have great fun and eat good food while celebrating with us, and having our wedding in the Tullyglass Hotel made this happen!
Memorable moment? What was the highlight of your day
Seeing the people we love have so much fun while celebrating with us was definitely the highlight for both of us!
We also had 7 bridesmaids and 7 groomsmen, which is a little over average! They all looked amazing on the day and it made for FABULOUS photos - we couldn't have imagined it without any of them up there with us!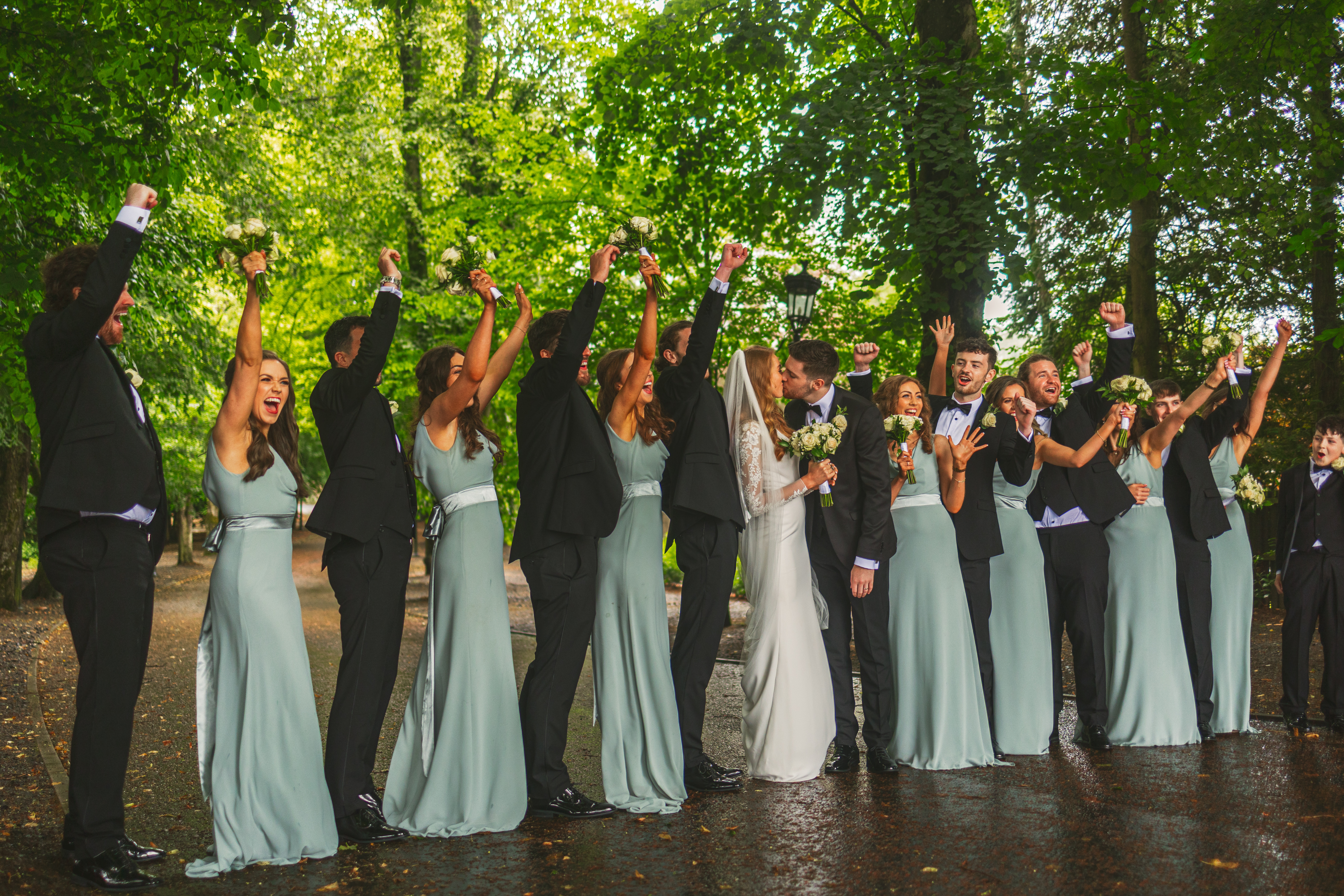 The Dress!
Our gorgeous Maria wore one of our favourite long sleeve wedding gowns of all time, #Filippa by Modeca. Like Maria this dress is elegant, timeless and stunning. If you thought long sleeved wedding dresses were just for Autumn/Winter, think again! Maria shows us why these delicate sheer embellished designed sleeves are perfect for Summer too!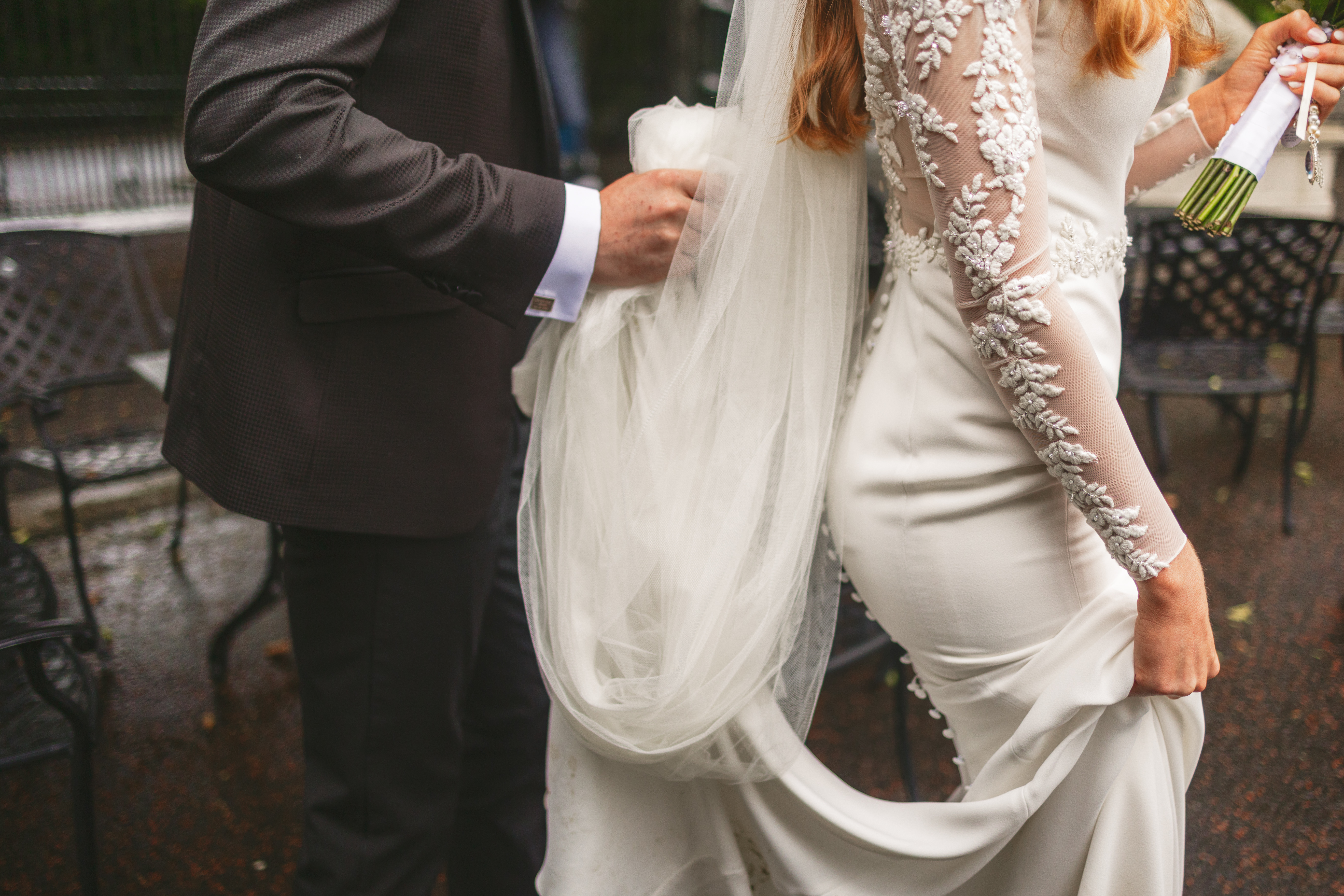 Your top tip / word of advice for other couples planning their wedding day?
Keep focused on what is really important and don't get caught up worrying about the small details - it will be an amazing day regardless. Booking in for my bridal dress appointment with Marie Me Bridal was truly one of the best decisions I made when planning my wedding!